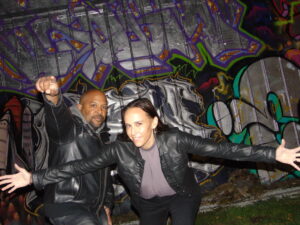 The A-Beez is Boston based music collective with its roots in soul, funk, and R&B. At its core are keyboardist Amy Bellamy and bassist Aaron Bellamy. The two began their musical collaboration in the early 2000's as members of the Sam Kininger band (BMG Japan recording artists). This relationship would blossom, as they would go on to work as sidemen and studio/session musicians, backing up numerous artists including Chaka Khan, Terri Lyne Carrington, G Love and the Juice, Res, Nth Power, Club D'elf, Martin Luther, Cody Chesnutt and more.
In addition to touring nationally and internationally, Amy and Aaron are staples of the local Boston scene, hosting a long-standing (over 16 years and still running) residency at Boston's renowned Wally's Café and performing in clubs and venues throughout New England and the East coast. In the years to come they would co-write and compile a catalog of original material that would eventually culminate in the release of their debut album "Never Going Back" which was released in April 2015.  They released their second studio album "Say Goodbye" in March of 2018.  Their 3rd studio album release "Reclamation" is set to debut in November of 2021. 
Though it can be loosely classified as "soul" The A-Beez have an eclectic and original sound which draws from the traditions of funk and R&B, and is heavily influenced by jazz as well as hip hop. You may detect hints of rock, country, and even classical if you listen closely. The lyrics are deeply personal and honest, the music grooves while remaining melodically elegant and full of subtle complexity. The production is pure and simple without the gloss and fakeness all too prevalent these days.
The A-Beez have been critically acclaimed as:
"…hard thumping bass grooves, on a mission to get every last body in motion"
"…(Amy Bellamy's) perfectly placed phrasings make the funk all the more delectable."
"…the funkiest couple on the planet."
The A-Beez showcase a variety of extraordinarily talented musicians in the live performances, making each show a unique experience. Vocalist Melissa Bolling holds down the front line, with guitarists Wayne Jones and/or Steve Fell, drummers Peter MacLean (Maceo Parker) or Matt Williams hold down the rhythm section.  We also feature a host of incredible horn players including: Sam Kininger, Mike Tucker, Andrew Fogliano, Alex Lee Clark, Brian Thomas, Scott Aruda, Tucker Antell, Phillip Young and many more.
Press Kit
Click here for promotional materials including bios, photos, and video.
Music of The A-Beez:
Bandcamp
Apple Music (iTunes)
Amazon Music – "Say Goodbye" & "Never Going Back"
Spotify
YouTube
Videos
The A-Beez playing their song Herbin' (video)
The A-Beez playing "Nothin To It" (video)
Social Media
Instagram
Facebook
YouTube
Berklee Bio for Amy Bellamy (Assistant Professor, Harmony Dept)